JOB OPPORTUNITIES
The education offers a wide range of career opportunities. We have described some of the potential job areas for SAFDs students
An education within design is one of the best choices to make if you are interested in fashion and design and wish to have a career within this. People educated within design clearly do better in the fashion industry than people without.
There is a wide range of career opportunities within the fashion sector and even though you for example lack competencies in fashion drawing you can still have a career in the industry. Becoming a fashion designer is naturally one of the most visible roles within the industry, but it is also a good idea to adapt to an area of interest where you have your particular strengths.
The fashion industry is an enormous industry with numerous positions and workplaces. Hence, you have an opportunity to find one that suits your temper, talent and competencies. If you think the fashion industry is for you, we have listed a range of career opportunities you can consider by taking an education from SAFD.
Fashion Designer
A fashion designer creates clothes, accessories and shoes. The position of the fashion designer goes far beyond the question of what looks good or less good. The fashion designer should visually be able to categorize expressions of identity, creativity and quality, which makes the fashion designer a couturier and trendsetter who creates the rules that defines the social expectations. This is the reason why so many considerations from form and colour to historical relevance have a major impact when creating clothing.
Creating clothes is one thing while selling it is another. It can be difficult to make people by clothes or an outfit but in the end it is about creating something new, which applies to your person or target group. Whether you develop to be an artistic or commercial designer, your job will be to conceptualize ideas based on fashion history and social trends, and to sketch these ideas to finally realize them in form of designs.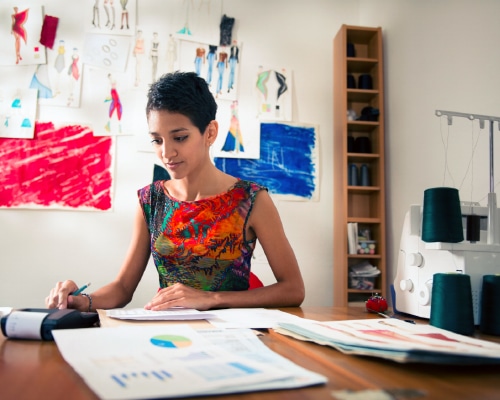 Accessory Designer
An accessory designer is a fashion designer who develops the aesthetics, the silhouette and functionality to different accessories, such as jewellery, belts, shoes, scarfs, hats and handbags. Like other people in the fashion industry, the accessory designer should be aware of former, present and future fashion trends and should be able to predict which types of accessories the consumers will be attracted to in the beginning of the coming seasons. In order to create sketches to the designs, an accessory designer starts using pen or computer software. Prototypes of accessories are drawn and changes will be made before producing the designs. In larger fashion companies, accessory designers are usually responsible for specific tasks, such as sketching or choosing materials. In smaller fashion companies, they can develop elements from conceptualisations through the production. Accessory designers should also be able to participate in marketing their products, help organizing fashion shows and appeal to specific customer groups.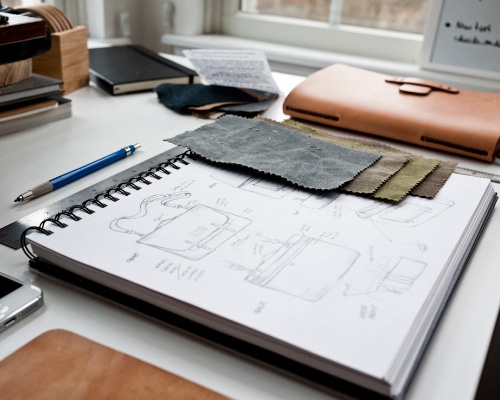 Fashion Stylist
A fashion stylist is responsible for creating or composing a visual picture by using clothes and accessories. Fashion stylists will for example dress models and actors, control photo shoots and create clothes to music videos, commercials or similar. As a fashion stylist it is about composing the right clothing, which matches the purpose of the given task. In order to do so, you need a good sense of fashion, style, the tendencies of the season as well as the ability to compose colours and texture.
The industries most relevant to fashion stylists are TV, magazines, music and the movie industries, but in general you can work within any industry where there is a wish and demand for fashion counselling.
A fashion stylist can be responsible to choose the perfect location for an advertising campaign, organize fashion shows, create pictures and decide specific mood.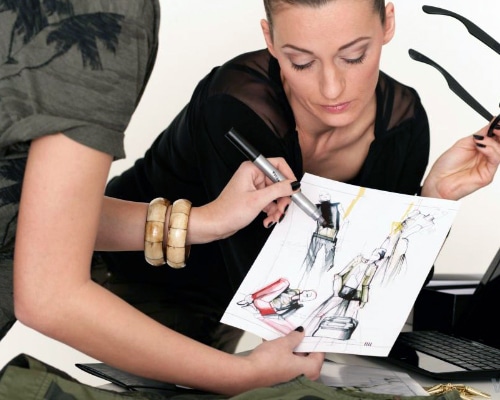 Textile Designer
Textile designers create the designs that are performed in printed and woven fabrics. I most cases, the designers' motives are developed in a small scale, and a report is made by repeating the construction until the whole area is covered. To be a textile designer, you should possess a mix of creative and technical competencies. A design should be aesthetic and sellable, and there should be a connection between the choice of materials and the production methods. Both sales and production are important aspects since they should be recurring in all the creations from the designer.
The textile designer should be able to understand the aesthetic and scientific aspects of a textile. Daily tasks may involve sketching designs, meeting with customers or buyers, prepare technical instructions for how to incorporate the design in a textile as well as participate in exhibitions with textile goods and trends. In overall, the job of the textile designer is to understand how textiles function and use this knowledge to create the textile desired by a costumer group.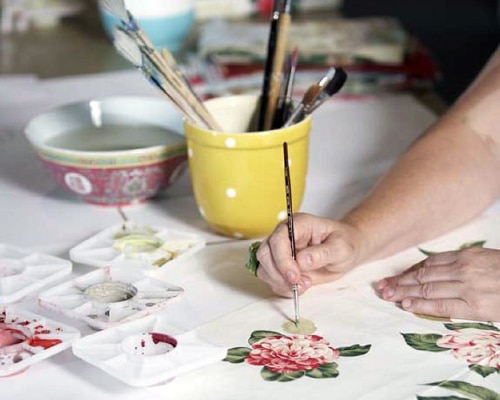 Pattern Designer
A pattern designer's job is to realize designs into productions or to work closely with designers to create patterns for a collection. Pattern designers mostly have a mathematical understanding and are able to create a pattern with few measurements of the human body. These measurements are applied to create a customized pattern, which then recreate the given size in a piece of clothing.
The job of a pattern designer does not only consist of conceptualization, measurement, construction and cutout of a pattern. Most pattern designers will participate in deciding the type and colour of textile that should be utilized to produce the clothing. After preparing a pattern, a prototype will be created to test the design. This makes the clothing exact in size and fitting.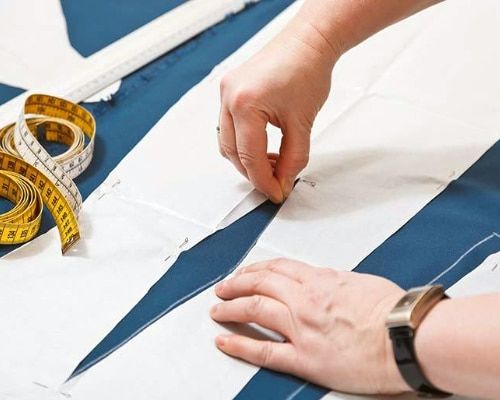 Design Assistant
A design assistant contributes with creative and practical support for fashion designers. The tasks involve researching current trends, developing new product ideas, participate in fittings and in the creation of material and colour charts for a collection. A design assistant can also plan and organize to ensure that projects are completed in time and prepared for meetings and seasonal sales. Furthermore, design assistants can assist buyers when working for retail companies and help control the process of order and buy. This involves planning, estimating, analysing and interacting with suppliers and it is important that assistant buyers are well aware of products. Additionally, a design assistant can be a production assistant and hold an administrative position. When working with fashion designers and retailers production assistants should manage orders and work in collaboration with distribution centres and communicate details with different teams and suppliers. Production assistants can also organize fashion events, such as fashion shows and other events.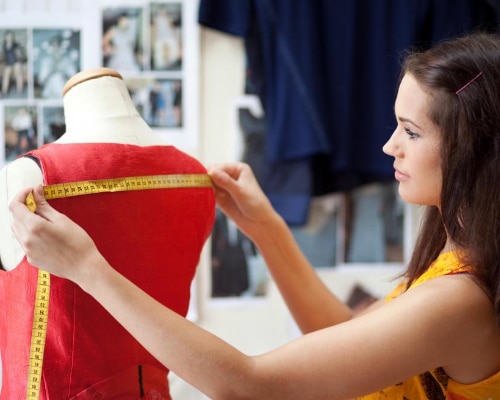 Costumier
A costumier designs costumes, which are used in movies, theatres, on stages or in TV. A costumier should have a strong artificial sense and competencies within sewing as well as knowledge about patterns, draping, textiles and needlework. A costumier is an important member of a production team.
Costumes are the fastest way to present visual information to the audience, such as a character's financial status or a specific time period. A costumier provides depth to the visual part of a production, which means that a costumier's role is to be concrete and exact, for example when it comes to finding the right dress to the right moment where the audience emphasizes in a role or a universe because of the meaning and aesthetics of the costume. Besides working with sewing and fitting, a costumier should have a broad knowledge of the fashion history where colours, patterns and silhouette have a major impact of how the character is presented.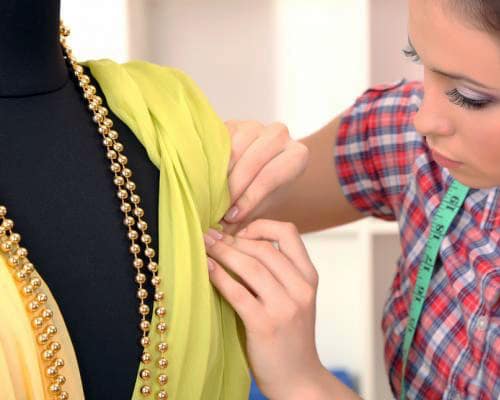 Trend Researcher
Trend researchers work for companies, which attempt to predict trends. The trend researcher advises the companies about seasonal outstanding trends as well as which trends to keep an eye on in the future. This requires analysing the market and buying behaviour of the consumers and to be updated within culture and society.
Trend researchers follow general trends in the industry, such as changes in colours and styles. Additionally, the work can involve observation of fashion shows. Trend researchers can plan both short-term and long-term strategies for stores or companies. You can be employed within a company or as private consultants for retailers, designers and manufactures.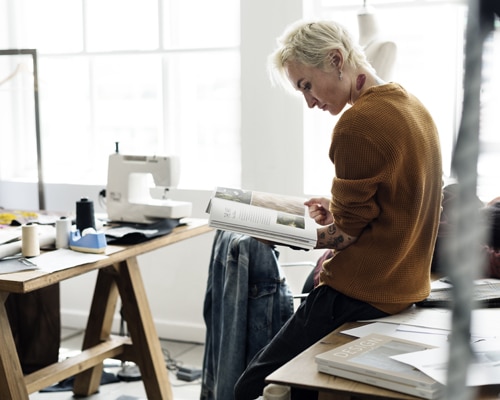 Fashion Coordinator
A fashion coordinator can work as a manager, designer, planner and fashion expert. Most fashion coordinators prepare specific clothing to fashion events, such as photo shoots, TV shows, fashion shows and other fashion related PR events. Independently of the project size, the job of the fashion coordinator is to be aware of the target group. When a fashion coordinator knows the target group, he or she should be able to communicate a consistent style through the entire project.
Many people need a fashion coordinators expertise and an example can be textile designers who need fashion advices to choose patterns and colours to the textiles of next season. Furthermore, a fashion coordinator can assist retail stores to create optimal choices.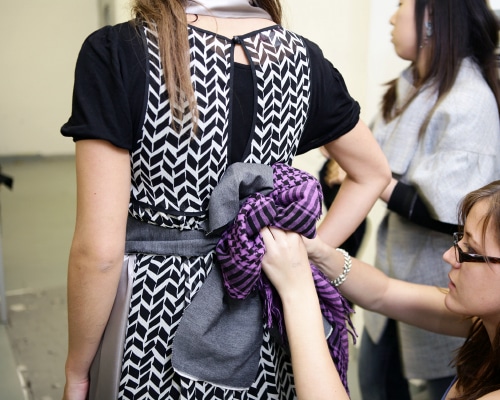 Teacher
Teachers should use their experience within the industry, their sense of fashion and their communication skills to communicate theoretical and practical knowledge. Besides communication, this involves understanding the needs of every single student with the purpose to create learning through motivation. Additionally, teachers should develop and prepare curriculum to be realized in the daily teaching to reach the given purpose.
In order to be employed as a teacher, you should have experience and be educated within design.
Teachers should demonstrate competencies within the technical and creative area, have knowledge of trends and professional insight in the creative business.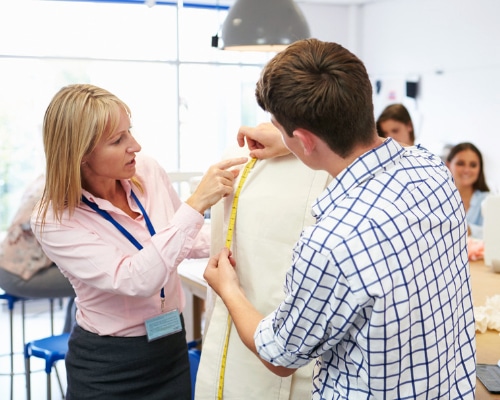 Buyer
A buyer in a fashion company choose and order clothes, shoes, backs and accessories, which will be in stock in the stores. As a buyer you specialize within an area, such as shoes or clothing. However, independently of the specialized area, the buyer's responsibility will remain the same. As a buyer, you should have a thorough understanding of the given company's brand and values as well as the ability to price and shop different products. Additionally, you should be able to spot new trends while being aware of the buying behaviour of consumers.
The tasks of a buyer can be to travel to fashion shows and exhibitions, to negotiate with manufactures and to study colours and silhouettes for the coming seasons. In overall, the buyer should set stylistic direction for the brand and dictate what people will be wearing in the coming seasons.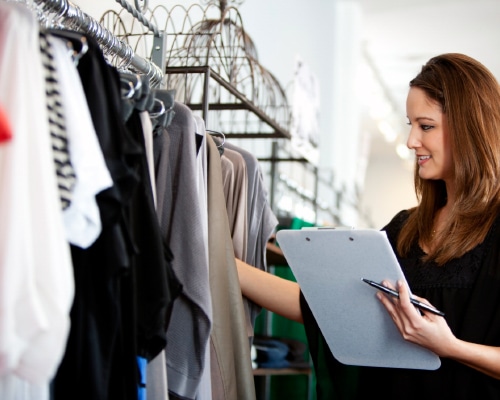 Store Manager
A store manager is responsible for the sales staff in a fashion store or in a specific department within a retail company, depending on the size of the company. The store manager should conduct interviews and recruit new employees, educate these persons to the job and handle inquiries within costumer service. A store manager ensures that all employees perform their tasks in the best possible way and that all operating activities run smoothly.
The store manager should work closely with regional leaders and storeowners to coordinate and determine cost effective market – and recruitment strategies as well as adapting their special franchise with a retailer's business philosophy. Furthermore, the store manager should treat customer demands by solving conflicts, reach good and long-term customer relationships and creatively place products to attract attention of the customers.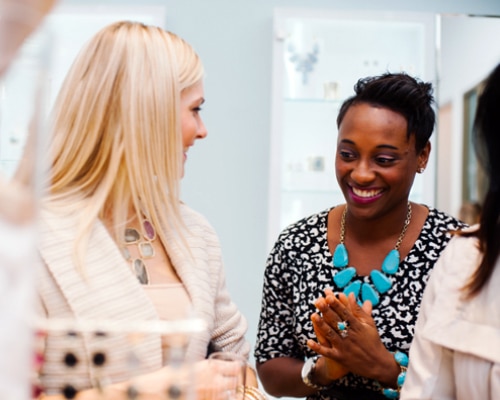 Fashion Merchandiser
A fashion merchandiser knows what consumers desire before they know it themselves and use their competencies and experience to convince the consumers. Additionally, the fashion merchandiser analyses market trends, production costs and sales number to determine direction of the products. This requires a mix of fashion and business sense.
Fashion Merchandisers on the retail market are responsible for consumer trends to determine store inventory and price clothes. Furthermore, a fashion merchandiser should observe, maintain and renew the visual appearance of the store as well as be responsible for marketing and advertisement. Fashion merchandisers can be some of the most responsible employees within a fashion company.